Inspiration of the Day
Meet 30-year-old  REXY ROLLE, the woman running one of the most successful Black-Owned Airlines In The World. She is born Sherrexcia ROLLE and hails from Bahamas. She currently works as the Vice President of Operations and General Counsel at Western Air based out of the San Andros Airport in the Bahamas.
She deals with the daily operations of the company and also anticipating new destinations and plans on expanding the fleets and currently, the fleet is valued at over $90 million.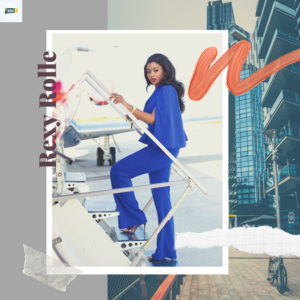 The company is owned by her father Rex Rolle,  who is President and CEO of the company. Leading a company as such is not what we see black women do daily, Rexy Rolle is an inspration because young girls can do look up to her and believe in themselves. In her interview with essence she said
" I hope the lesson that they take from me is that you have to take advantage of any and all opportunities that may be presented to you. When I was younger I didn't fully understand everything that my parents were sacrificing to do in terms of what their bigger vision was. I had to make a decision as to whether I was going to embrace their dreams, and build upon it or just feel comfortable and live my life, and not be aggressive in doing anything else. It's important to know that whether you have limited opportunities or an abundance of opportunities, there's always going to be an abundance of open doors, and it's up to you whether you slam it shut, or burst it wide open."
The Choice is always ours to make when the time is right, things may not always go as planned but never stop aiming, never stop dreaming.